Cushla Machree
A collection of songs of
Irish Emigrants
of the Mid-1800.
Volume 2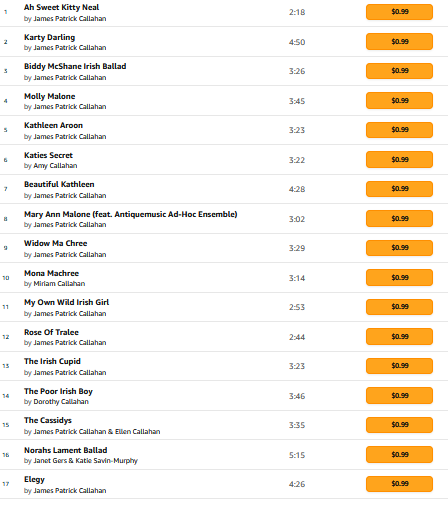 The Photo on the cover is of Maggie Anne O'Sullivan. She is a first cousin, twice removed of James Callahan. The picture, taken in Limerick, Ireland, was sent to her uncle and was passed down through the generations to James.
Songs in the public domain from the US Library of Congress
Songs of affection, grief, and unrequited love
from the 1800's.

These are songs for and about these people (but not necessarily written by them).
To view the arrangement, go to loc.gov and search on the title of the song.
Eight voices come together to bring these too oft' forgotten songs back from obscurity. Dan Savin, of Savin Sound,brings these piano arrangements to life, adding instrumentation to the songs.
Cushla Machree – throb of my heart. Stories of Irish love are as abundant as the number of Irish who emigrated in the 1800s. With them came innumerable stories of love, or grief and feelings of loss for those left behind (as well as an amusing anecdote or two). This collection of songs is a reflection of those feelings and stories. These are songs generally not heard today and are derived from arrangements found on period sheet music from the US Library of Congress website.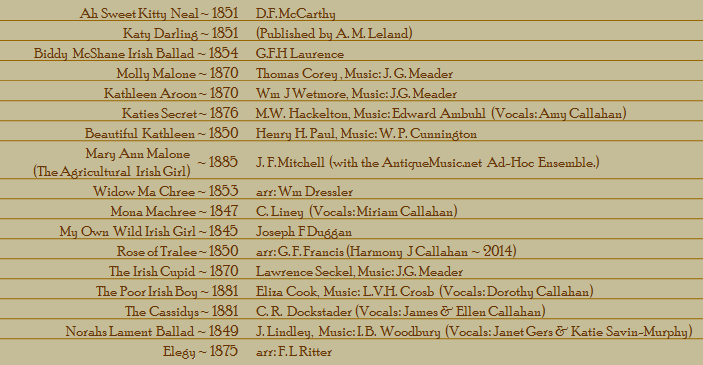 (c) James Callahan, 2013